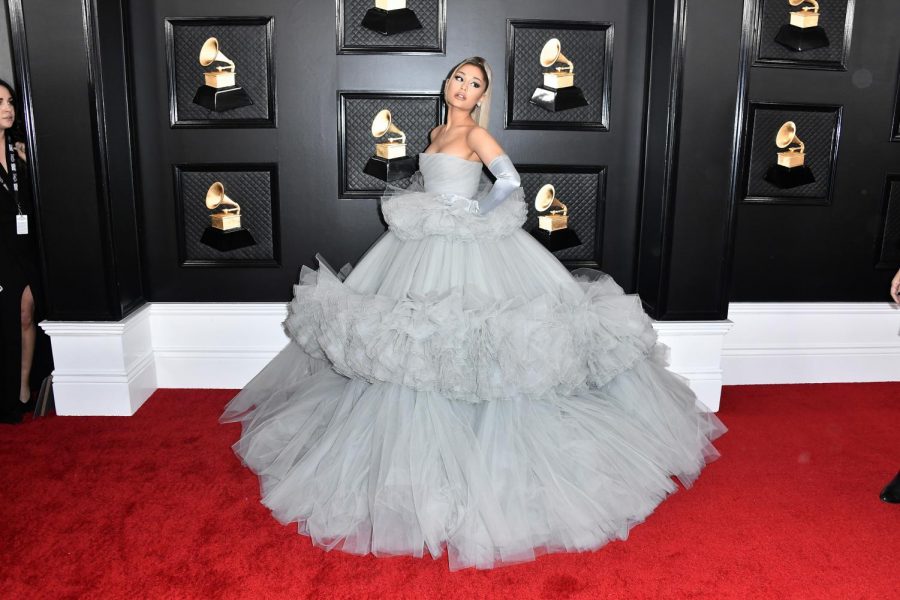 This year at the Grammys, in Los Angeles at the Staples Center, celebrities arrived in their most outgoing outfits, knowing fans await these looks all year. Every look was unique and beautiful in their own way, like Ariana Grande's fluffy princess gown, that required a "dress fluffer" to follow her along the red carpet.  Billie Eilish, Lana Del Ray, Tyler The Creator, 21 Savage, and FKA twigs were the five looks that were especially magnificent. First off, Billie Eilish, her look was the most attention-drawing, with a black two piece Gucci Suit with green logo jewels. According to ELLE Magazine, she paired it with matching earrings, gloves, and glasses. Eilish is known for her baggy couture style, and she stuck to it exactly. Lana Del Ray was nominated for two Grammys and showed up looking ready to win. The story behind her silver gown shocked reporters . Jaynee Berkman of Dazed shared that her dress was purchased for $500 at the mall, but it was nothing short of stunning. Designed by Aidan Mattox and purchased at Dillards, this showed fans and others in the industry that even smaller brands can be represented at such large events. Berkman stated that this was monumental because it makes brands like this much more 'approachable'. Del Ray's look was different than anything she had done before, but she still held the same confidence and grace as always.
Tyler the Creator is known for always coming to these events dressed to surprise. According to Billboard, he wore a BellHop suit that was designed by his brand, Golf Le Fleur. The pink and red suit was a show-stopper. Alongside this, he carried a briefcase, which he later revealed to his Instagram followers, held his outfit for the show. The look also included a classic, red Bellhop cap and black sunglasses. Tyler The Creator did a performance at the show, in which he stayed in his suit but changed into the infamous Igor wig (his 'alter ego'), which was also held in the briefcase.
Another rapper, 21 Savage  who was nominated in the same category as Tyler showed up wearing a beautiful Saint Laurent suit. According to Vogue Magazine, it also included a feather overcoat. Savage didn't shy away from the accessories, with a red pocketbook around his neck and classic black sunglasses. It would've been a surprise for Savage to show up in anything but Saint Laurent. 
FKA Twigs had one of the most glamorous looks of the night The sheer shock value must be appreciated. Her look was red riding hood-esque, with  a beautiful lace pink and white bodysuit paired with a black drawstring hood. Alongside the silver jewelry, this dress was one for the Grammy books. Every celebrity at the Grammys this year surprised us with beautiful gowns and suits and fans can't wait for the next set of looks at the 2021 awards.