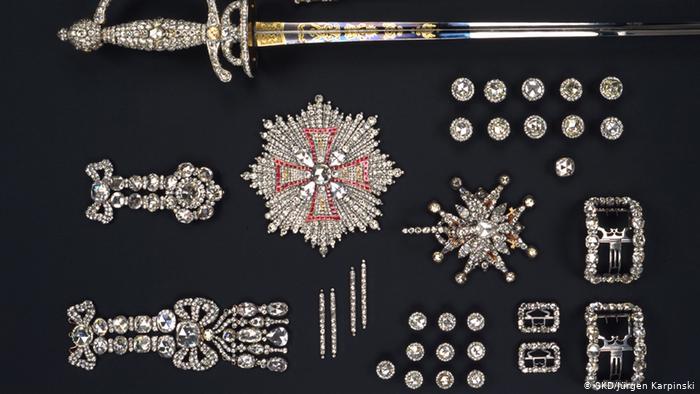 The Royal Palace Museum in Dresden, Germany fell victim to a jewel heist on November 25, 2019. In the early morning, a fire was started at a nearby bridge, destroying a power box which consequently disabled several security alarms. Thieves used this opportunity to break into the Green Vault's jewel room and stole a collection of priceless Saxon and Bavarian artifacts. Less than one week later, on December 1, 2019, Berlin's Stasi Museum was robbed of historic jewels and medals. Both times, the burglars entered by breaking a window before breaking a display case and fleeing with the treasures.
An article published by CNN gave details on the valuables taken from Dresden: "a sword, a string of pearls and collection of priceless 18th-century ornaments containing thousands of individual diamonds." The overall value of the items is estimated to be at more than 1 billion euros. Meanwhile in Berlin, some of the looted medals were replicas instead of originals. The gold, Communist-era items taken from the Stasi Museum are not as valuable as the diamond-encrusted jewelry from Dresden.
In Dresden, a surveillance camera video depicted two thieves entering with an axe, but officials were unable to confirm their identities.
Art News publicized that the Stasi Museum director, Jörg Drieselmann, was interviewed by a German news source, Der Tagesspiegel. Drieselmann told the paper "It's always painful when there's a break-in. The feeling of security is considerably disturbed."
The artifacts stolen in Dresden were not insured. With the world on the lookout for the jewels, it would be near impossible for the thieves to sell them on the open market. The New York Times reported that Chris Marinello, an expert at the Art Recovery International, worries that the stolen jewels will be broken down to be made available for resale. Germany's Culture Minister is now reconsidering the protection and security of the country's museums.
The Dresden Police Department offered a €500,000 reward for information related to the criminals. Over one week into December 2019, the thieves of both crimes are still unknown. Authorities consider it possible that both felonies could be committed by the same group of criminals.
In recent years, the amount of museum heists seems to have increased. The criminals of Antwerp's diamond heist in 2003 were caught and taken to prison, but the jewels were never recovered. In 2018, a similar robbery occurred with a set of thirty-carat diamond earrings from an exhibition display in Qatar. These thieves are still at large.
Big heists such as these have long been glamorized by the film industry with movies such as the Ocean's series, The Italian Job, and Baby Driver. In particular, Ocean's 8, released in 2018, is similar with a team of thieves taking a large collection of royal jewels from the Met Gala.
For now, it seems that thieves of these German heists are still at large.