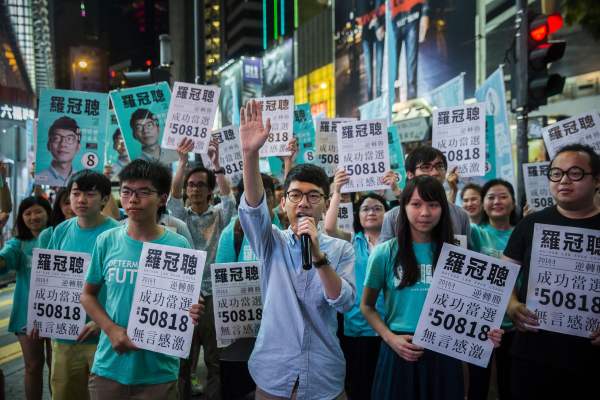 AFP/Getty Images
On November 24, the District Council elections in Hong Kong took place. After months of protests by the newly developed movement for universal suffrage by Hong Kong's residents, pro-democracy parties seem successful, given the results of the elections.
Over 71% of the eligible population participated in the election last Sunday. That equals 2.94 million people. Considering BBC's calculations, the voting rate more than doubled since the last elections in 2015 where only 1.4 million people participated.
According to the New York Times, the results promise the pro-democracy representatives a majority in 17 of the 18 districts and nearly nine tenths of the total 452 seats.
District councils have an advising role on local issues such as garbage collection which is why their direct political influence is quite small. However, they will be able to make an impact in the upcoming Legislative Council elections that are planned for September 2020. In addition, 117 seats in the 1200 member election committee to select the Chief Executive are preserved for District Councillors.
Back in 2015, when the last elections happened, pro-Beijing parties had control over each district. A recognizable change started in July when more and more protests took place. The first one fought against a planned law, in regard of the expiring special status of Hong Kong in 2047, that indicated criminal suspects to be extradited to the Chinese mainland. But what started as a small grassroots riot, grew to the quest for universal suffrage and democracy in Hong Kong.
This change is not considered a chance to fix Hong Kong's democratic deficits but sure is able to support the growth of these new demands in the city.
Another aspect that might have contributed to the results is the fact that lots of pro-democracy candidates focused on the big issues where society wants to see changes rather than their local responsibilities in their campaigns.
So far, Beijing has not officially commented on the current happenings. According to CNBC though, Chinese newspapers talk about a setback for Hong Kong's democracy and sabotage in the elections. China will be affected, especially because they tried to keep Hong Kong's residents quit until now.
Chief Executive Carrie Lam stated that the government will listen to the concerns since the elections reflect the majority's opinion. In the future, they should be taken into consideration.