Baskerville- A Sherlock Holmes Mystery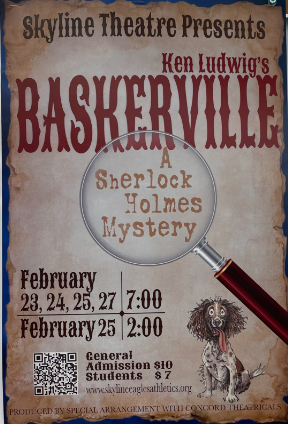 Look out for the upcoming Skyline production, The Hound of Baskerville, coming to Skyline's theater on February 23, 24, 25, and 27th. A comedic spin on Sir Arthur Conan Doyle's murder mystery. With Alexia Smith and Zander Benson as Sherlock Holmes, and Kenneth Mathews and Zachary Sorensen as Dr. John Watson. This Sherlock Holmes murder mystery is full of disguises, deceit, and investigators who must untangle a dizzying web of clues.
Picture Baskerville, a greatly written play and excellent scenes, with no props and a cast forgetting lines. It would be a disaster. That's why they are putting all their dedication into this play. Skyline students do their best to make this play the best it can be. The student cast rehearses almost everyday spending their time after school perfecting scenes. 
Baskerville offers the cast a unique challenge due to the double casting and multi-role assignments. The cast has been hard at work rehearsing and preparing. There are two casts and two opportunities to see different interpretations of the play: the Devonshire cast and the London cast. Both use the same scripts, and the same roles, But different people in each cast. The character and costume changes add to the comedy of the show, as well as tests the cast with a new experience. Costumes are used to distinguish the characters, and some actors will be popping on and off stage with the changes. "It (the play) was written with five roles in. Sherlock, Watson, and then three actors that play twelve characters each, and we've split it up so it's nine playing three characters each, and it's a really interesting challenge 'cause there are a lot of different voices." Judson said.  "It's challenging to do all these different voices and have all these physical characteristics between each of the characters and keeping all those straight, but it's fun." Judson Smith, freshman, is in the Devonshire cast playing Sir Charles, Sir Hugo, and Sir Henry Baskerville. 
 The two casts display different personalities of the same character, as different actors take on the role in their own ways. Junior Alexia Smith who plays Sherlock Holmes in the London cast portrays Sherlock differently than Zander Benson who plays Sherlock in the Devonshire cast.
"My favorite part is learning who the character is because a lot of them are fairly obvious like Sherlock and Watson, but you have to make it yourself. What I've noticed with the other cast is, Zander Benson, he's doing a fantastic job of being the very serious Sherlock who's very in control, and I believe I'm significantly more neurotic and all over the place. Not to say that either is better but we both made it our own role." Alexia explained "I think it's really fun to develop a character." 
Stage crew is responsible for all the props, lighting, and sound that you see throughout a production, they have spent countless hours afterschool preparing for the play. Skyline plans for plays months in advance which usually gives stage crew enough time to build props and sets. The week leading up to the play will be full of late afternoon practices and run-throughs which requires not only all the actors but also all of the stage crew to be present.
Although they don't show their faces and aren't on stage they keep the play moving so it's not just people talking on stage. They add the cherry on top making the audience more engaged with the play. 
"There's been a lot of bigger projects and assemblies that they've had to help with." Alexia said. "In the musical we need someone running the music and fly system, in this one we are not using the fly system, and we haven't started using audio yet. So there's less stage crew, but when they do help, they do amazing work, they've been working on the set which is coming along amazing."
The play's story is based on the famous Sherlock Holmes books by Sir Arthur Conan Doyle. The story revolves around a murder mystery at the Baskerville manor. The townspeople fear that there is supernatural involvement, a demon hound. "This mysterious hound of legend, and they go up to the mansion and find out what's going on and there's comedy and mystery," Judson quoted. Although this play adaptation has its differences from the actual book, some say it's quite accurate. 
When they started rehearsing, they began with blocking, then they rehearsed with lines, scene by scene.  "I'm excited, we're in a pretty good spot like we're done preparing the show." Judson said. As they are reaching completion in preparation for Baskerville, cast one rehearses the whole play one day, then cast two rehearses the whole play on the next.  "I also just really am enjoying working with all these people. It's a really funny show and it's very high energy all the time. I feel like I've learned a lot because it's one of my first lead roles." Alexia said.
"If you're a lead you have to be there everyday, memorizing lines and rehearsing" Zander Benson said.
Leads aren't the only important role in a play. Every role is important to keep the production together. Although some roles don't have as many lines or scenes, without them Baskerville wouldn't be the same. Even though there are obstacles and challenges the cast has to face they still give it their all for the performance. 
Baskerville is an exciting opportunity for Skyline students to see their peers portray a multitude of different characters in various ways. You can see the Devonshire cast on February 22nd, 24th, and 25th and the London cast on February 23rd, 25th, and 27th at the Skyline Auditorium. Tickets are $7 for youths and $10 for adults, and can be purchased on Skyline Eagles Athletics.org, (and possibly at the front before the show)
Showtimes: 
Wednesday feb 22 7:00 pm. Devonshire cast 
Thursday feb 23 7:00 pm London cast 
Friday feb 24 7:00 pm Devonshire cast 
Saturday feb 25 2:00 pm Devonshire cast 
Saturday feb 25 London cast 
Monday Feb 27 7:00 pm London cast
Leave a Comment