Dance Company Shines in Spring Light & Dark Concert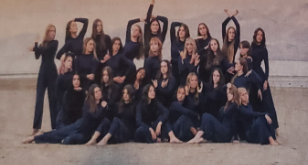 With their key appearances nestled in half-time shows and assemblies, Skyline's Dance Company's hard work in elegant entertainment tends to be overshadowed by the other sports. However, every year, Dance Company concerts allow the dancers to really shine. Apart from the December concert, which Dance Co. shares with Ballroom, the moment to shine is in their spring concert.
Unfortunately, it seems the team was overlooked this year, as the spring Light & Dark concert was never mentioned on the daily announcements. "I think it didn't quite make it in this time, but that's okay! Usually we try to do that but yeah, sometimes things happen," says Jenni Humphrey, the Dance Company coach and teacher. The late release of posters might be partially to blame for the lack of school-wide acknowledgement. Senior Caroline Hill, the Dance Company President who's been on the team all of her four years at Skyline, explains, "The only thing I wish we'd done differently is posted an actual poster earlier, because we posted senior updates and stuff. If you know a Dance Company girl, she's posting about us on Instagram." Humphrey acknowledged this approach to advertising as well, mentioning how the group had still got the word out via posters, social media, and, most importantly, word of mouth. This form of advertising didn't go unnoticed, as the audience for the concerts, which took place both April 27 and 28, were still full of supportive friends, family, and fellow students.
Advertising wasn't the only thing dancers had to prepare beforehand, however. In all classes, from Dance Co. to Hip-Hop, the hardworking Eagles learned a total of 31 dances, spread between each of the groups. Dance Co. and Dance Ensemble, being the audition-only classes, had the highest number of dances, a large percent of which were student choreographed. "We would audition choreography and you'd have to submit a paper… a video and all this stuff and it would have to be explaining what your concept of light and dark was," says Hill. "We selected ten choreographers from that, and then we'd rehearse every day." Hill was one of the choreographers herself, creating a piece called "The Light You Give". Vice President and senior Eliza Bjorklund also choreographed a piece, titled "A Trick of the Light." Being the highest level, Dance Company girls have additional practice time. Humphrey says, "Dance Company specifically comes early morning every B day at 6 AM […] so they've been spending a lot of time developing the ideas for their dances, developing their movements."
Regarding the concert, Hill and Bjorklund were quite satisfied with how it went. For them, however, their own dances weren't the best part. "It's the entire dance program […] and you're all supporting each other and sometimes it's your first time seeing some of these dances," explains Hill. Bjorklund agrees, "It's really cool to see all the work done up until this point and see it all come together." "It literally comes together day of," adds Hill. 
The Light & Dark concert doesn't quite mark the end of Dance Company's year, as the seniors especially have Senior Spotlight to look forward to, but the big spring concert does in a way mark the end of the year in showing off every dancer's, no matter their level, effort. While it's a shame that advertising didn't quite work out as the Eagles hoped, they still managed to spread their wings and RISE above the difficulties, which truly let them shine.
Leave a Comment