How to Stay Stylish in the Winter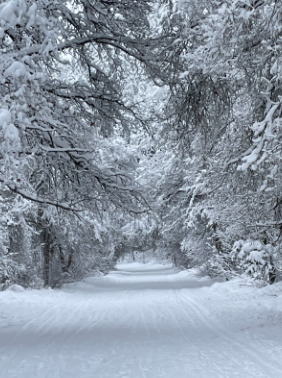 Tips From Skyline Students 
When asked, Skyline students gave their best advice about how to stay fashionable against the cold. Violet Powell, a senior, suggested the importance of finding a color palette "I really like blue." Finding an array of colors you enjoy can make finding outfits that match easier. She added a comment about the importance of building an outfit around a piece of warm clothing, saying, "In the winter I pick my favorite warm piece and then things that will match." 
Paige Harmon, another senior at Skyline, pointed out her distaste for impractical winter fashion. "Don't wear t-shirts and shorts, everybody knows you're cold." However, some students like wearing T-shirts and shorts, according to the senior Jet Nagy. 
In terms of finding cool pieces for your closet, Edie Mcquin, senior, suggested buying secondhand, saying that, "You can find a lot of good stuff thrifting." 
Recent Winter Trends
Ballerina / Leg Warmers
A dainty ballerina look is haunting the fashion world with its chic femininity. Ballet flats, bows, and wrapped clothing are carefully being incorporated into outfits. Another very popular ballet-inspired look includes leg warmers, which give an interesting silhouette to any outfit.
Uggs
Uggs are comfy fur filled boots that keep the feet warm against icy weather. They've had their moment in past years, but are making a comeback this winter due to their simple design. 
Motor Jackets / Racer Jackets
Leather jackets have always been in style, regardless of their shape and make, but 2022's favorite seems to be the racer jacket. This leather jacket ties in many different color schemes and, as they are often purchased second hand, each have their own unique look. The jacket effortlessly adds to any plain outfit and makes it interesting to look at. Fa Gorham, a senior, mentioned that she likes wearing leather jackets in the winter since they're warm and stylish.
Crochet Hats
Anything crocheted is trendy in 2022, and in the winter, a crocheted hat adds to any outfit and gives it a little boost with the added benefit of keeping your head warm.
Maximalism
Maximalism has existed as a subculture of fashion for a long time, originally surfacing in Japan, but mainstream fashionistas seem to be catching on. Clashing patterns and textured topped with as many accessories as possible, maximalism is all about having as much as possible. With colder weather approaching, maximalism gives an excuse for extra layering, whether or not all the clothing itself is warm. 
Maxi Skirts
Skirts are cute, but a lot of people find them difficult to wear in the winter due to the harsh weather. A maxi skirt solves this problem with its length, creating a way to wear a skirt and still be warm, all while looking very fashionable.
Scarves, Ties, and Statement Necklaces 
Adding a neck accessory can create a more interesting look when paired with a toned down outfit. For example, adding a chunky necklace on top of a sweater adds a lot to the outfit without being excessive or expensive. 
Leave a Comment