Kanye West Praises and Preaches in JESUS IS KING
December 10, 2019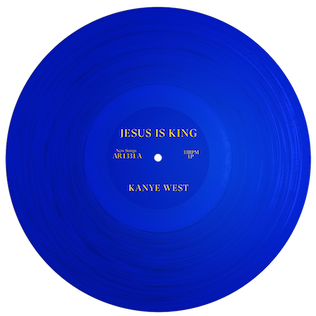 Spirituality has never been uncommon for Kanye West—his debut album, The College Dropout, included the popular "Jesus Walks," which showed Kanye's Christian side as opposed to the rest of the temporal album. Other spiritual tracks like "Father Stretch My Hands" and "Ultralight Beam" litter previous albums, but never ended up being their centerpiece. However, the recently released JESUS IS KING's primary purpose, as the title suggests, is spreading the word of Christianity.
The release of JESUS IS KING follows the hosting of a Sunday Service each weekend, the announcement of an accompanying film, teasers, and weeks of release delays. Delays like these aren't rare for Kanye, though, as he postponed, then supposedly scrapped a long-awaited album, Yandhi, last year. Yandhi is rumored to have been reworked into what is now JESUS IS KING. "To my fans. Thank you for being loyal & patient. We are specifically fixing mixes on "Everything We Need" "Follow God" & "Water". We not going to sleep until this album is out!" Kanye tweeted the night of the release.
The album boasts features from people like Ty Dolla $ign, Ant Clemons (who was previously featured on the unreleased Yandhi), and Kenny G, and was produced by over 20 people, including Pi'erre Bourne, Timbaland, and Kanye himself. The album has no cussing, which is entirely new for Kanye. JESUS IS KING also samples from various aged gospel tracks, like the 1979 "God Is" by the Southern California Community Choir on the aptly named "God Is".
JESUS IS KING's first track, "Every Hour," is nothing special—it's a simple gospel track featuring the Sunday Service Collective, but it is a powerful opening to a brand new era of Kanye. "Every Hour" sets the tune for the rest of the album: Christ-focused and heavily chorale accompanied.
"Closed on Sunday" begins with its witty chorus—"Closed on Sunday / you're my Chick-fil-a" and has stood as one of the most popular songs on the album. However, "Follow God," which samples a 1974 gospel song by the Whole Truths, has been praised as the album's standout track. Carl Lammare of Billboard commends the song for providing the "'old Kanye'" sound where the rest of the album doesn't. "Follow God" begins with the line, "Father, I stretch / I stretch my hands to you," which is familiar to Kanye fans, as he had a song titled that on 2016's The Life of Pablo. 
However, JESUS IS KING has been criticized for its sound mixing, despite the delays. Some believe that the album's faults were created on purpose—"…really, Kanye has all the resources he wants to get it all technically perfect – these are more likely mixing decisions he [made because he] wanted it to sound exactly like that," says one twitter user.
Overall, JESUS IS KING is the beginning of a new era for Kanye West. This is the era where he will have to recover from these past years—his hospitalization in 2016, his comments on slavery and politics, and his dependence on opioids. JESUS IS KING marks the beginning of a preaching, worshipping Kanye. On Christmas Day, Kanye will worship again, as he announced the release of his next album, Jesus is Born during an interview with Zane Lowe.