An Eagle's Eye View into the Nest Preschool
It's never too young to be an Eagle, and the Nest Preschool proves it! Here at Skyline, students in Early Childhood Education (ECE) are able to learn new skills for a potential career or just as a way to teach young Eagles how to RISE, prepping them for the years ahead.
Eleven-year director of the program is none other than Lisa McDermott, the Nest's FACS and interior design teacher. Being hesitant at first with the job opening, McDermott has grown to love the program. Handling children is no easy task, which is a big reason why the Nest Preschool was made available to begin with. There was a community need from parents to find a "daycare" nearby and reasonably priced, so the help of students, eager to learn, opposed to just adults, did the trick. 
ECE is open to Junior and Senior Eagles willing to help with teaching, making lesson plans, and generally creating a positive environment for not just the kids, but themselves, as the class serves as a nice break from more stressful classes. "Who doesn't like stickers and painting?" McDermott says with a laugh. "They [Older Eagles]come in not knowing anyone, and then they make some lasting friendships." With the effects of COVID still holding weight, the last couple years have been crucial to bring children away from their parents and interact with friends again. "We needed to work harder than ever to get them out of that climate, and be hands-on in everything."
ECE students particularly enjoy the time they get to spend with the kids. "I have a little brother. Last year, he was doing it so I thought might as well," says Senior Eagle Isabel Ruesch. While first joining was for her brother, Ruesch decided to take the class again this year and loves it more than ever. "There are very sweet moments that just make them happy," Ruesch says with a smile.
The activities are very hands-on. Eagles create lesson plans on their days off and teach them the next time they have class. "For me, I make my lesson plans on Tuesday, then teach on Thursday," explains junior Grace Reese. Reese particularly enjoys "Science and Discovery" days because of the labs. "We did a skittles-in-water lab…anything that helps them be even more curious than they already are," she says with a laugh. 
Little Eagles are definitely curious, which is why it is crucial for them to be exposed to as many subjects as possible. Because of that fact, the preschool is keen on teaching the subjects equally to make sure an impression is not made that one is more important than the other. The daily activities vary from more logical subjects, such as math and science, to more creative ones, like music and art. "It is important that children have an overall experience on how to grow in society…to not choose one subject as more important than the other," McDermott explains. 
"Not everyone is strong in math, not everyone is strong in language arts," echoes Junior Eagle Max Olsen. Olsen, who takes the class on both A and B days, particularly enjoys teaching the young Eagles math and overall learning the world in which they live. Olsen also is one of the few males on the staff, and understands that in society there is a notion of what preschool teachers look like, female. 
"It's possible for anyone to be nurturing…it should be something you enjoy not based on gender or sex," Olsen says. "It's guys and girls, that's important to know. And the little kids love them both, and we love having them both. We like a good mixture of representation," McDermott echoes. Olsen seeks to do just that, as he plans to have a career in childcare, perhaps a teacher or administration in a preschool environment. Not everyone who joins the class has such an interest, however. McDermott says, "It attracts a really wide variety; some kids who are really into it and who want to learn childcare, but a lot of them just want a difference in their day and, as a senior, it keeps them really involved."
The Nest preschool is definitely not like any other class the Nest offers. Because of that, the dreaded scenario of not having a friend in the class beforehand may intimidate some, but it shouldn't, according to Ruesch, "You get really close to the people who you teach with." And as Rees puts it, "It's not scary whatsoever, it's like being at home with your siblings."
What more could you want? And by looking at the wee Eagles faces and smiles, it becomes clear that virtually nothing can compare to stickers — and painting.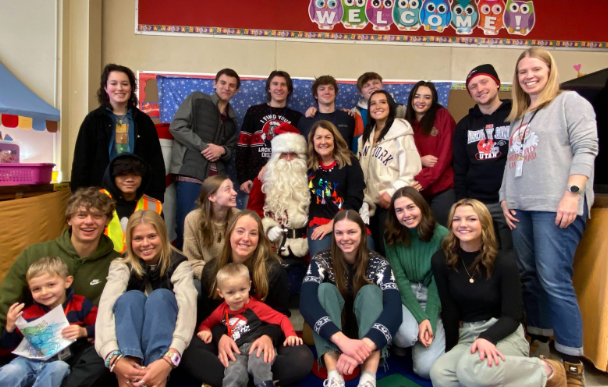 Leave a Comment