Black Menaces Visit Skyline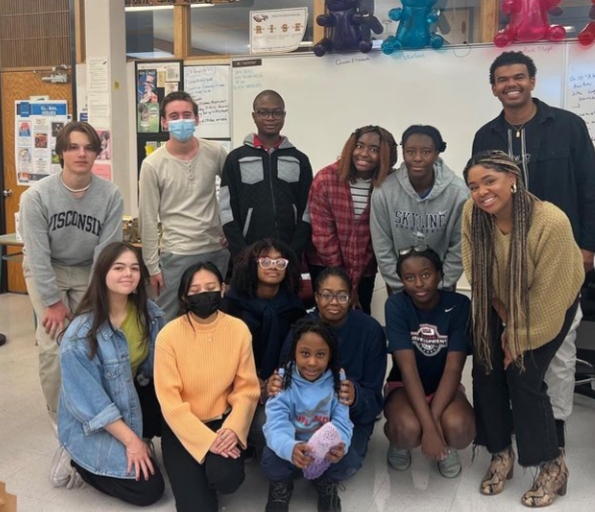 Sebastian Stewart-Johnson and Rachel Weaver from the Black Menaces came to speak to Skyline's Black Student Union this last Friday, November 11.
They spoke about the significance of being a menace to bring about social change, their personal experiences as former/current students at Brigham Young University, and their constant work in launching "Black Menace" chapters across the nation in predominantly white institutions. The two named examples of people who have been a "menace" in society namely Reverend Dr. Martin Luther King Jr and Mahatma Gandhi.
The two made it clear that just because some may be against you does not mean that you are in the wrong. They have learned that continually by building up their rapport with their viral TikTok account, where they execute man-on-the-street interviews at BYU´s campus asking controversial questions revolving around the history and doctrine of the Church of Jesus Christ of Latter Day Saints. 
Both saw the opportunity after joining the BSU at Brigham Young University, that launching the Black Menaces would be a real game changer to cultural acceptance and oftentimes, swept under the rug conversations at the predominantly white university. 
The Black Menaces gave much advice to the students of the Nest's BSU, who seek to make lasting positive changes at Skyline. Questions were raised from how to become a better ally, to how to stay true to yourself when you feel alone, each answer given with thought and consideration. 
Throughout the discussion, the Black Menaces wanted to reiterate that they deal with the same things as Skyline students, even when things have changed quite a bit for them as they have become a household name, they still encounter insecurities and problems that all Skyline students can relate to. 
The event ended with a picture and lots of cookies with words of encouragement for young Eagles for their futures, whatever they wish it to be. 
Leave a Comment