Dancing in The Moonlight
September 21, 2019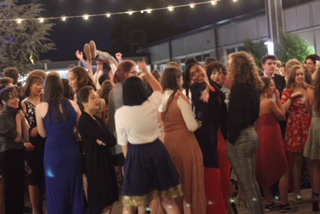 The theme of this year's homecoming was Dancing in the Moonlight, from the catchy song by King Harvest. The song features people dancing at night (in the moonlight), which Skyline replicated by having the dance in the courtyard,. The dance started at 7:30 and lasted until about 10:30. The guests bought their tickets in the ten mile hallway, where they could take pictures against a dark blue backdrop with gold stars. The ceiling was hung with white, blue, and yellow streamers, and more lights led a path to the courtyard.
Outside there were shiny paper stars hanging from tree branches and fairy lights lining the benches. The dance took place in the south side of the courtyard, with yellow string lights criss-crossing overhead. People on the outside of the group huddled to talk to their friends, others danced along to the music that boomed through the speakers. The breeze was cold, but there were heat lamps to help warm the dancers.
The greater percentage of people who came to the dance were Sophomores, Juniors, and Seniors, but a few Freshman showed up as well. The majority of the guests were from Skyline. At 7:30 P.M only a few people had trickled in, but by 8:30 P.M, many more had arrived. The music mainly consisted of popular songs, and a many people had fun singing along to the lyrics. Some people hung out inside the B-building, where it was warmer than outside. Eventually, however, those students returned to the courtyard.
Jasmine Wong went to Homecoming 2019 and said it was a fun interpretation of a high school dance. She liked the theme because it was imaginative. "Having a dance outside was really cool, and it was really pretty with the string lights in the dark." Jasmine also liked the paper stars that they hung around the courtyard. "The decorations matched the theme really well." She said.
The 2019 Homecoming dance, Dancing in the Moonlight was creative and fun. The decorations were cute and also matched Skyline's theme colors. The dance took place in the courtyard, and lasted about three hours. The Homecoming dance was a great way to get hyped up about going to Skyline and having a fun time with peers.