Skyline Celebrated at Eagle Fest
September 20, 2019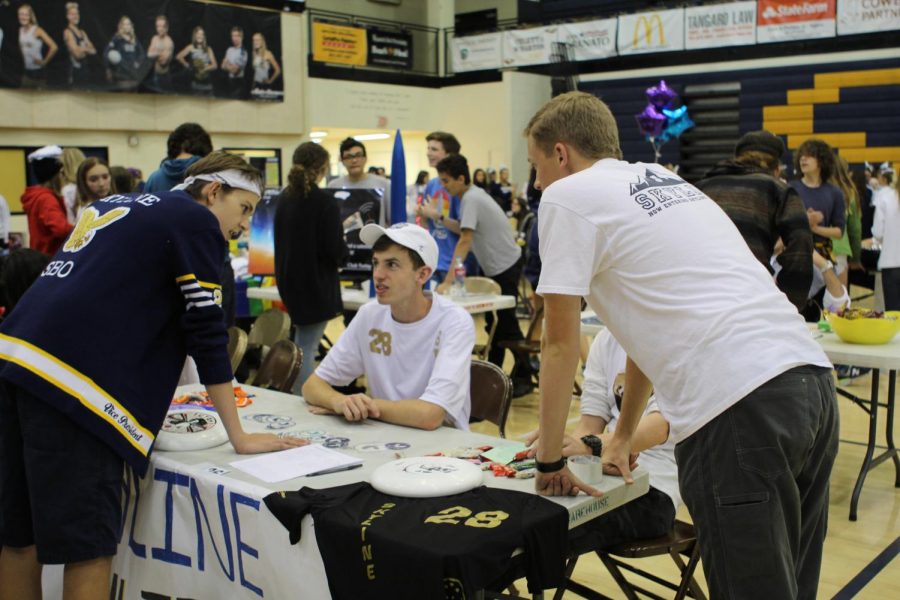 Skyline High School has lots of interests and skills to offer. These skills and interests shine through in the form of clubs. Eagle Fest is an introduction to all of these clubs and the uniqueness that Skyline students want to share.
Eagle Fest took place on September 20, 2019. There were lots of tables set up for each club to represent themselves with decorations and people to promote.
Each club has a purpose and they have an impact on Skyline. Lanie Cheatham, President of the Wellness Club says, "There's a lot of anxiety here because of the high achieving students. Our club can alleviate that stress and make people happier at school."
"I hope everyone gets a lot more involved in issues that matter to them," commented Ainsley Moench, Co-President of the Activism Club. Over forty clubs were represented at Eagle Fest and they came in a variety of categories.
Academics is a huge part of Skyline. The clubs that fall in this category are: Coding Club, Robotics Club, IB Tutoring Royalty, MESA Club, American Mathematical Society, Science Fair Research Club, Technology Student Association, Book Club, Skyline Rocket Club, Science Team, and STEM Club.
Arts and culture clubs were well represented as well. This category includes: Jewish Club, Satorian, Drama Club, Stage Crew Club, Skyline GSA (Gay Straight Alliance) Club, Ballroom Club, Single Pringle Mingle Club, Wellness Club, Community of Caring Club, and Sonic Sessions Music Club.
Social involvement is an important part of building society. The clubs include: Activism Club, We Talk Club, Foreigner Support Club, FCCLA (Family, career, and community leaders of America), YDSA (Youth Democratic Socialists of America), Speech and Debate, Key Club International, Operation Smile, and International Service and Education Club.
Clubs are a great way to expand interests. Clubs to join are: Mock Trial Club, Think and Ink Club, CE-5 (Close Encounters of the Fifth Kind), Model United Nations Club, DECA Business Club, and HOSA Future Health Professionals.
Here are clubs to join if you are interested in gaming: Minecraft Club, Roleplaying Club, Cosplay Club, Video Game Club, and Esports Club.
Sports have a big influence here at Skyline. The clubs representing sports are: Skyline Water Polo Club, Skyline Ultimate, and Skyline Softball Club.
Language is a good way to connect to the world around you. These clubs are: Chinese Club, and ASL (American Sign Language) Club.
Clubs are a great way to get involved at Skyline and with other students. Luke Romney, Co-President of the We Talk club said, "I feel like at Skyline there are a lot of people that don't think they can share their political beliefs… important to have a safe space… understand that truth can come in all forms."
Eagle Fest is a great way to share what those clubs are and to get lots of students involved.