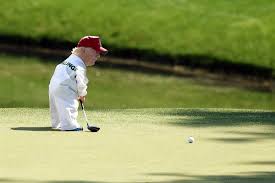 Trump's Foreign Policy (Satirical)
April 16, 2018
Trump's foreign policy is setting the standard for diplomacy and peaceful negotiation all over the world and will surely be written about in textbooks in our grandchildren's schools. The policy can be summed up as a fresh modus operandi of genius strategy and late-Merovingian action. Sure, he may have called Germany a crime-riddled insane asylum under Angela Merkel's Chancellorship, and unintentionally sparked the beginning of a nuclear war with a volatile North Korea, but hey, boys will be boys! Plus, why would we have to worry about North Korea's nuclear missiles and the possibility of nuclear winter anyways?
It's all just oversensitized fake news! And yes, he may have started off his campaign by replicating Mussolini's Make Italy Great Again speech under a fascist regime, but he really hasn't gotten enough credit for pulling off a rigged election and winning with the help of an old, well-known enemy, and our new best friend: Vladimir Putin.
He may emulate fascism, supporting the neo-Nazi movement in a democratic country, but he's just trying to make his father, Pappa Putin, happy. After a few days of grooming and the prospect of more wealth, who wouldn't turn on their home country for Russia?
What does any of that matter anyway when you have a great soft power task force of a walking, (probably) talking fetus, Jared Kushner, and no foreign ambassadors?
Even though there's no appointed U.S Ambassador to South Korea, it's pretty clear the whole Korea situation is just going to work itself out anyway. It looks like Kim Jong Un has settled down a bit, taken away the DMZ, and magically lost all hatred for the U.S.- see? What a wonder the Olympics does for the world. And the best part is, the U.S had the luxury of sitting back, eating our racist taco bowls, and regretting it the next day.
Besides we kind of still have allies who've been by our side for centuries. It may not be the best of friendships with Australia, like Malcolm Turnbull, fellow businessmen and Prime Minister of Australia, made jokes about how Trump is an egotistical maniac with some sort of undiagnosed psychosis, but who needs Australia anyways?
They may be a central ally in the years to come, but those freakishly large, poncho-wearing rats aren't welcome in good ol' America. We don't want your freaky kangaroos- they scare us, they scare all of us! You know what, even though we're over a year into Trump's presidency with nothing to show for it, except for Islamophobic travel bans, and trying to arm teachers who can't figure out autoplay, he's done a pretty good job of agitating an already crotchety leader, assembling task force Kush, teaching every 5 year old child a new and fun word, and of course, keeping up those huge relations with Mexico. Thanks, Don for all your extensive, mediocre work and the several times we all thought WWIII was upon us. It's been invigorating.