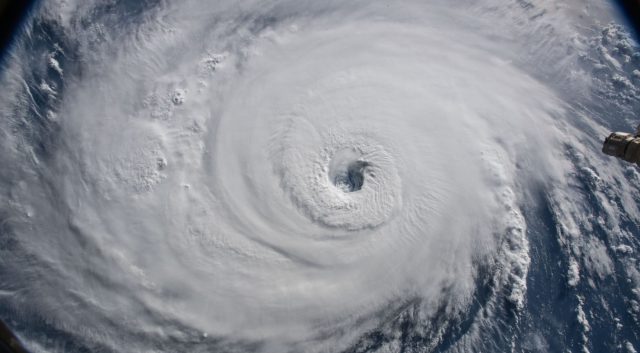 Hurricane Florence Plows Through the Carolinas
October 25, 2018
Hurricane Florence made landfall on September 14 in the Carolinas. What started as a Category 4 hurricane eventually weakened to a Category 2 just before bashing into the eastern United States. Despite scientists downgrading the storm, thousands are without power and many face flooding and property damages. When President Donald Trump was asked about Florence he stated, " This is a tough hurricane, one of the wettest we've ever seen, from the standpoint of water."
Hurricanes are often categorized by the wind speed ranging anywhere from a Category 1 with winds upwards of 33 miles per hour, to a Category 5 where winds can be as strong as 155 miles per hour. The earliest reports showed Florence to have winds near to that of a Category 5, however, once it made landfall, the winds were roughly estimated to be between 96 and 110 miles per hour. Although, this may make the hurricane seem less dangerous in comparison to others including Katrina (2005) and Harvey (2017) the National Weather Service (NWS) warns that damages can still be extensive.  
As Florence neared shore, in the Carolinas on September 14, the NWS reported a rise in water between six to nine feet. This caused extensive damages to homes and businesses along the coast, but the hurricane did not stop there. After making landfall, Florence traveled inland across the southern United States, bringing inches of water into the Appalachian mountains and causing catastrophic flooding that spread further inland.
Flooding and 96 miles per hour winds could cost up to $22 billion or more in property damages, though the true cost of Florence doesn't end there. Emergency response networks including The Federal Emergency Management Agency (FEMA) and the Centers for Disease Control (CDC) have called the aftermath a 'public health nightmare.
' Damage to infrastructure, including waste management and sewage, is expected to cause a torrent of disease and bring other health catastrophes to the Carolinas for years to come. So far, Hurricane Florence lead to 37 deaths, caused by anything from carbon monoxide poisoning to drowning in floodwaters. Flash flood warnings remain in effect and officials urge anyone near or in flooded areas to evacuate to established refugee centers.
As of now, towns like Wilmington in North Carolina are currently cut off from all ground assistance and can only be reached via helicopter or boat due to the deterioration in infrastructure. Search and rescue operations remain ongoing in flooded areas. The impact of the storm is not limited to cities along the coast. Flooding and other issues have percolated into West Virginia, Kentucky, and farther inland in Charlotte, North Carolina's most populated city.
Many corporations and volunteers are aiding in the search and rescue including federal agencies like FEMA, the United States Coast Guard, the CDC and non-profits like the American Red Cross. On top of national agencies the North Carolina K9 Emergency Response Team (NC K9ERT), North Carolina Emergency Management (NCEM), and the local National Guard have been called on to provide further assistance. Relief is funneled from outside the United States through donations to the American Red Cross and other organizations.
Natural disasters like hurricanes are devastating to communities and leave scars that may never be healed. Although many have forgotten about Harvey and Katrina, the damages both physically and mentally, still remain. With climate change, the World Health Organization (WHO) and the CDC warn that hurricanes like Florence and Harvey are now becoming the expected norm and urge the United States to prepare for increasing turbulent hurricane seasons in the years to come.