Mudslides & Flooding Interfere With Students Living in the Mountains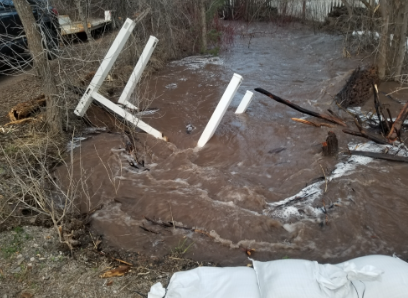 As summer approaches, Skyline students living in the mountains and canyons surrounding the valley, specifically in Pinecrest and Emigration, are feeling the heat as the spring runoff melts into Emigration Creek and the soil surrounding. The resulting effects are mudslides and flooding, which may be far off the radar for those in Millcreek, but have been affecting Eagles living there.
Flooding isn't a problem for most students living in the canyons, but some, like sophomore Jason Jacobsen, have property affected by the flooding and erosion the creek brought to residents in the last couple weeks. "There's my family's property, […] then there's a path that leads to this really big yard called the Drexel Flat; flattest place in the whole canyon," Jacobsen explains. "Then below that there's the river and this section we call the lower flat. […] The flooding has mainly affected the lower flat."
Others, like tenth grader Elizabeth Bierman, haven't been personally affected, but know many who have been. "Up Pinecrest, where my cousins live, the road is blocked off by sandbags because the river is flowing across the road," Bierman shares. Freshman Adelade Winger also had heard of the chaos in the neighborhood. Winger says, "I know that a lot of people have rivers by their house and they have bridges to cross over and the water started rushing over their bridge because the water rose so much, so they couldn't get to their houses."
A more common problem interfering with the lives of these students is the mudslides. Winger says, "They closed the canyon road so that only people that lived up there could go by so that other people weren't going up because of the mudslides." Bierman also mentioned this, showing just how greatly mudslides were affecting student's commutes. However, Bierman additionally shared concern for another area's possibility of sliding. "Our backyard slid many, many years ago on one side, so my grandparents and my family […] hammered a bunch of poles into the ground, so that side is really good, but the other side is definitely not, so that side could slide at any time," she explains.
With most of the snow in the canyon melted, the Eagles don't expect many more flooding scares or mudslides before the summer season, but it is still an ongoing possibility until the spring runoff has ended. Either way, the cleaning up of sandbags and repairing of affected areas is still to come, making the interference a lingering thought on residing students' minds.
Leave a Comment