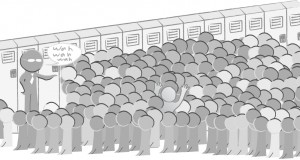 Skyline Freshmen Adjust to the High School Life
October 17, 2018
This year, many new students began their first year at Skyline. This led to an obvious overflow of new students who, for the most part, are confused and scared in their new environment.  Several of Skyline's freshmen were interviewed and asked about their first couple of weeks of high school. They anonymously voiced their opinions and views on high school and several of the defining factors of Skyline.
When asked if they were scared, they explained that the initial fear of high school began to dissipate, and now it was more of a routine instead of a hurricane of people like the first few days. When asked what their biggest fear was in the transition to Skyline, most of the students said the size of the school compared to the smaller junior highs they attended before. Since the layout of Skyline is still somewhat confusing, even for upperclassmen, it is especially confusing for a brand new student.
Another factor that was new to the younger students was the hundreds of students that crowd the halls after the end of each class period. It is quite a challenge to get to classes on time if they are on completely opposite sides of Skyline –  especially if there are hundreds of students plugging up the halls. The freshmen said they experience this fear the most while trying to avoid running into any angry upperclassmen.
When asked about their experiences in the infamous parking lot, one student who rides her bike voiced her fears. She explained how most of the drivers are terrible. She has almost been hit a countless number of times by relatively new drivers, and that the potholes and glassy areas are a challenge for her to ride her bike on.  
When asked what they want to accomplish in the four years of high school, most students responded with something related to academics.  Many freshmen are taking one of the only AP classes available to them, AP human geography.
When asked about teachers, homework, and classes, most freshman agreed that the volume of coursework was much more than expected in the early weeks of high school than it ever was in junior high. (Keep in mind the students interviewed were mostly in honors or AP classes).  When questioned about teachers, they had little to no complaints, though that may change as the year progresses.
Be aware before mouthing off to some freshman for standing still in the hallway. They may be going through a tough time right now, and may not be completely used to high school life yet, but they will get there.