Spring Snow is Melting into Summer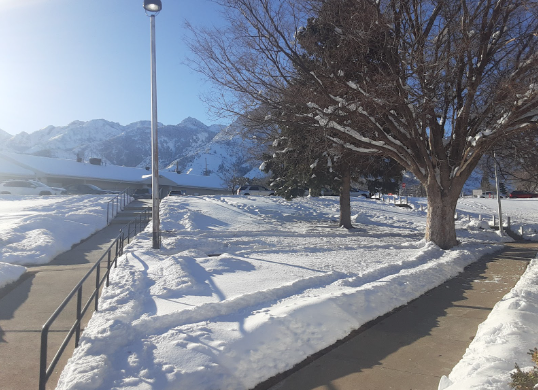 Being so close to the mountains, Skyline has taken the brunt of the record-breaking winter storms.  With two delayed starts and a distance-learning day, both due to weather, it's no surprise that this year's snow pact has interfered with learning and sports at the Nest.
Because of the continuous seemingly never-ending snowfall, sports games have been pushed back, school has been delayed, and dances are starting to be dreaded over the cold. For Morgan Anderson, a ninth grader and lacrosse player, the snow has made playing on the team pretty impossible. "I play lacrosse, but we haven't been able to play on the field," Anderson said.
Eagles are thrilled that next week's weather is guaranteed, almost, to be warm and sunny, in the 60s, specifically. This fast warm-up is slightly concerning, however, as the thought of flooding is not to be ignored. Freshman Kiana Naderi says, "It could be bad with how, in a few weeks, it is going to warm up so much. As it says on the news, it could be flooding."
But snow in the spring is "weird but beautiful" (Swifties know) for a few Eagles who are sad to see the snow go, even after such a long season. "I love the snow, I'm a skier…so when it snows I'm happy," says senior Eagle, Ella Mill.  The winter sports culture is huge in Utah but is elevated at the Nest.  Many Eagles skied and snowboarded over the spring break instead of traveling, as was in Ella Mill's case. 
With less than two months until the end of the school year, a lack of motivation is usually always expected to peak at this time. With the weather change, to many Eagles, that motivation has even gotten worse. "I'm feeling a lot less motivated to work..it makes us feel like we are very far from summer," echoes Anderson.  Ninth grader Vera Web speaks about struggling to get up in the morning. "When it snows, I just want to stay home..so then I just don't come to school."
With the sun already coming out and the snow melting, the last 40 days of school are looking to wing their way into being smooth and warm.
Leave a Comment