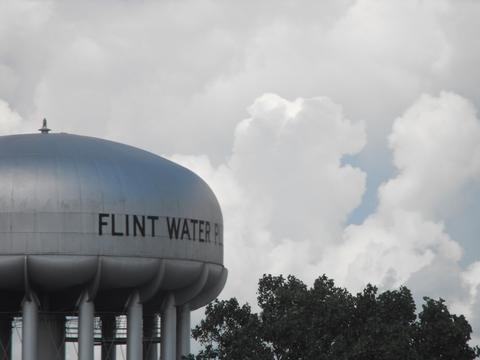 The Continuing Flint Water Crisis
October 25, 2018
On Monday, September 10, during the introduction portion of the annual Miss America pageant, Miss Michigan, Emily Sioma, brought attention back to the ongoing clean water shortage in Flint, Michigan. Sioma used her platform to remind the U.S that residents of Flint still do not have clean drinking water being supplied to their homes.  
In her 8 seconds on National television she said, "From a state with 84% of the U.S fresh water, but none for its residents to drink, I'm Miss Michigan Emily Sioma."  Sioma is referencing the Great Lakes of Michigan and their natural supply of fresh water compared to the poor quality of drinking water for the townspeople.
The eyes of the nation were focused on Flint in April of 2014 when the drinking water went from average tap water to discolored, dirty water.  This sudden change in the safety of the water was the result of the main water source for the town being changed from Lake Huron and the Detroit River to the cheaper option, the Flint River.  
The treatment of the water was insufficient, causing a massive influx of lead coming from the pipes it was transported in to infiltrate the drinking water.  Their water has been polluted for four years, and the residents of the town still do not have fresh water.
Though years have passed, very little has been done to improve the quality of the water and the global interest in the water crisis has fizzled out. Hopefully, this small reminder by an unlikely voice of reason will help bring more awareness to the worsening situation in Flint, and will soon get the residents the clean water that they need to survive.
The tainted water exposed 100,000 Flint residents to lead poisoning, which has killed twelve people since 2014. Legionnaires disease is the deadly side effect associated with lead poisoning and tends to target people over 50 with weaker immune systems. It is classified as a severe and lethal version of pneumonia, causing coughing and shortness of breath.
Among the many health issues the tainted water, ingesting lead caused a serious drop in fertility among women and has caused to a 58% increase in fetal deaths.  
Most residents of Flint nowadays have become accustomed to only using bottled water for all water activities ranging from drinking water to showering. Once a week people line up to get cases of water bottles from delivery trucks supplied from local government districts: however, in April 2018, the free bottled water program in Flint was discontinued. The Governor of Michigan, Rick Snyder, announced the end of the program because he had been given false information that the water quality had been restored.
The state of the crisis had been declared over, but water is still visibly unclean and most residents continue to use bottled water for their everyday lives. Progress needs to be made to ensure safe water for Flint's citizens.