The Global Anti-Climate Change Movement Returns to the Streets
October 29, 2020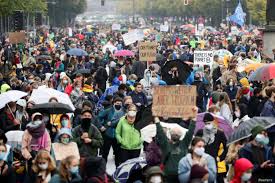 On September 25, the global climate strike movement, Fridays for Future, held a global day of protest. The end of summer has traditionally been the season of climate protesting. So, along with Fridays for Future, the Extinction Rebellion also held climate demonstrations around the world this September.
According to Fridays for Future, there were over 3,500 cities in 154 countries that participated in this year's climate strike. During this same season of protest, the Extinction Rebellion organized protests in cities around the world.
In Vienna, Austria, protestors filled the town center and blocked off roads with human hexagons. In Prague, demonstrators protested fast fashion by standing nude in place of mannequins. They claim the fashion industry contributes to 10% of the world's carbon emissions.
There were traditional protest marches in Cape Town, South Africa and Helsinki, Poland and Bern, Switzerland. Student protestors in Uganda were arrested for participating in a climate strike. The Ugandan police drew sharp criticism for this from Fridays for Future.
Demonstrators around the world carried signs with calls for action and sharp criticisms of the status quo.
In South America, activists carried signs saying, "Act now!" and "Capitalism does not work anymore."
In North America, signs with "Denial is not a policy" and "Cops kill and pipelines spill" were held.
Arctic and Antarctic researchers held a sign with "We deliver the facts. It's time to act."
One activist, Mya-rose Craig went as far as going by boat to the Arctic Sea to bring attention to the melting ice caps and rising sea levels.
In Kenya, many activists carried signs with "Kenya is not a dumpster," probably propelled by the fact that many of the people and areas most affected by climate change live in Africa.
The goals of these anti-climate change protests are all essentially identical: the protestors want immediate action from governments to stop the Earth's warming to ecologically dangerous levels. Scientists warn that if the global average temperature rises more than 1.5 degrees Celsius above pre-industrial levels there will be irreversible ecological impacts—sea level rise, more severe weather events, etc.
Recently, the unequal effects of climate change have reached the forefront of the climate movement. The term "MAPA (most affected people and areas)" has entered the climate discussion to illustrate how the more severe effects of climate change will affect less developed countries and vulnerable people first.
Protesting during the global pandemic is quite difficult because of the risk of spreading SARS-Cov-2. During the height of the pandemic, Fridays for Future held virtual protests. Now that in many places the spread of coronavirus has slowed down, in-person demonstrations have started back up. Fridays for Future encourages activists to maintain social distance and follow local health guidelines to stay safe.
Climate protestors do seem to be staying relatively safe: images of Extinction Rebellion and Fridays for Future protests usually show masked demonstrators. However, these protests are still higher-risk events for the spread of SARS-CoV-2.