Girls' Golf Team Triumphs at State Championships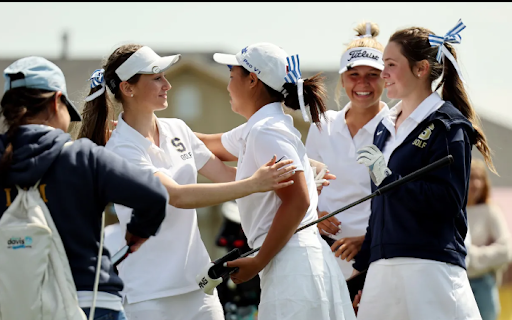 At Remuda golf course in Ogden, on May 8th, Ashley Lam led the Eagles with an eagle (two under par) to the first Skyline High School State win. Skyline as a whole won with a total of 630 throughout the two days, which was 5 strokes less than Timpview, the former 3 year champions. 
Played over two days, Skyline closed out the first day at Riverbend Golf course, tied with Bonneville, with Timpview close behind. Ashley kept her optimism high, "definitely thinking that we have a chance to win, because we do. Just mentally thinking that was the biggest part." Ashley's positive attitude kept the whole morale of the team up. The second day at Remuda set the stage for the win: with the young team of three Juniors, a Sophomore, and two Freshmen, the team was ecstatic to come up as winners. Even with Seniors on the team, this had never been accomplished for the Skyline Girls Golf. 
Head Coach Kenny James, for both boys and girls, attributes the win to the hard working group. "We had more depth. We worked harder, when it was raining and snowing, we were out there hitting balls into the cold and dark." Avery Kraatzs also recalls their tough practices. "We practiced all through the winter as much as we could with indoor facilities." The whole season was shortened significantly due to the poor weather conditions canceling many of their tournaments.
Timpview was looking for their 4th consecutive win, but ended with disappointment. Seo Sunbin, who played and won the last 3 years (excluding 2020) graduated last year, and moved on to play for BYU. People pondered if Skyline's win was due to the lack of Seo. Kenny had a different view "They graduated two studs, so what? That happens every year." 
To celebrate the state championship win, the team went to refuel at Texas Roadhouse. Kenny says that food is a crucial part of golf and preparing the girls for state. "You need to feed the machine."
Leave a Comment