Skyline Girls Golf Delayed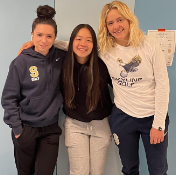 Skyline girls golf supposedly started mid-February after holding tryouts earlier the same month. Although the season has been underway for about a month, the team has not been involved in any tournaments because 6 in total have been postponed. No games have been outright canceled, but because so many games have been postponed, their eventual season will be greatly condensed–with the possibility of 3 tournaments in the final week of school. 
The team's home course, Nibley, on 7th and 27th has been the one to postone. Persistent snow and large gusts have affected the players and the tournaments. Due to the inclement weather, most practices have been held at "Golf in the Round", a semi-enclosed hitting range. Mimi Simms, 3 year player on Skyline Golf said "the wind was blowing the snow into the bays yesterday". This however has not stopped other girls from practicing on their own. Avery Kratz and Ashely Lam, varsity players on the team have shared their personal practice schedules as well as the weather issues.
The weather isn't the only thing affecting the tournament, qualifiers and classics schedule. Spring breaks this year are staggered over 3 different weeks in the region. None of the schools are able to host tournaments or matches while on spring breaks. Commonly in the past the spring breaks had been more aligned, this has never proceeded to cause this many disruptions. 
The lack of games throws curveballs at everyone involved. When the assistant coach was asked his face looked appalled while he said "we haven't played a SINGLE game". Coach Rob has always had the highest confidence in his team, the lack of tournaments pushes the boundaries of how much playing the girls can handle in one week.
Today, March 21st was supposed to mark one of the Skyline "Classics" at meadowbrook, a team bonding and skill building tournament where the girls play as a team. Weather depending, this may be the first event of the girls golf season. There hasn't even been a varsity qualifier, the girls are unaware of who actually is going to be playing varsity. The only 3 confirmed varsity players are Ashley Lam, Avery Kratz and Tegan Halloran, all juniors and 3 consecutive years on the team.
Leave a Comment