Skyline Slam Dunks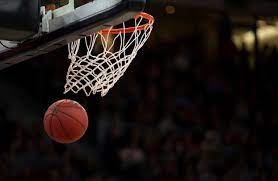 The Skyline Women's basketball team season has just started the official season. With the first region game being a remarkable defeat, 65-23, against East High School, there is much anticipation for what these Lady Eagles will accomplish. 
Cami Groberg, a junior, is the shooting guard on the team. She started playing when she moved from New York to Connecticut. The Eagles stand out to her because of their communication. "We are all pretty good at communicating what we want from each other on and off the court, she says, "It helps with there being less tension than other clubs I've been a part of." Besides being able to shoot well, Groberg needs to be good at dribbling fast, passing, and having court vision by seeing the court. "It's a lot to handle at once, but it's all that we practice during workouts, it's a balancing act through and through," she echoes with a laugh. Groberg is also responsible for driving the ball down the court and setting up offensive plays.  We need to be ready at all times to get reading to get that leading shot, she continues, "If not, that could end up hurting the team," Cami says. Cami Groberg is a captain of the team as well. For her, it's all about having diligence and wanting the best outcome. "Being a captain means being willing to put the team's needs before your own, in a sort of way, it's not just thinking about yourself."
Leelu Bare is a sophomore on the team, taking the position of point guard. Bare tried out many sports from soccer to tennis, before landing on basketball when she moved to the United States from Australia. Bare started playing when she was seven and fell in love with the game. "I come from an athletic family, both my parents were professional athletes," Bare says, "I wanted to try a team sport, and basketball just seems to hit it for me." With Bare being one of the youngest on the team, it comes with some pressure. "Last year, as a freshman, I was nervous to call out during games because of the age difference," Bare remarks. "It has taken work but at this point, I am pretty comfortable." Bare is another captain on the team, to her being captain means finding ways to bond on a team. "Team bonding gets team chemistry, gets friendships, which automatically translates on the court," the star player points out. Bare is planning on getting recruited for basketball in college and is more than thrilled with the idea of playing professionally. 
Udochi Okoro, a junior, and the team's power forward, started playing in middle school. "I just decided that I will join. I made the team but got benched the whole time, so I kept practicing," Okoro says. She has always been extremely athletic. "I have always had that competitive nature, which is crucial for power forwards. "Since power forwards are seen as the most versatile of players,  it is important for them to be aggressive and competitive while blocking hits. "I have liked basketball and see it as an outlet to be creative in a way that my other sport, track, and field, doesn't do," the star player continues, "It's that team aspect that isn't in track, so that's why I keep doing it." Okoro is a regular gym goer, making her physically bigger compared to other opponents, even those who are taller. "Building up those muscles, helps you jump higher, defend better, and gives you better agility," she says. Okoro plans to continue basketball till the end of her high school career but track and field is what she is focusing on for college. "I love basketball. That's why I am here and continue to play. It will always have a special place in my growth as an athlete."
Leave a Comment