The Re-Emergence of Skyline Water Polo
May 9, 2019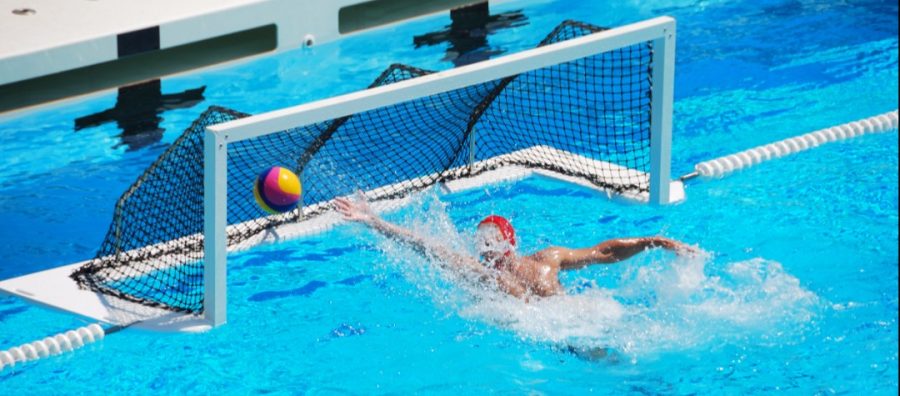 Skyline Water Polo was a sport 20 years ago, then disbanded due to the sport growing too expensive.  Since then, Skyline hasn't had a water polo team until this year when Bella Barraco, a Varsity Swimmer for Skyline, wanted to bring Water Polo back to Skyline.
Adriana Jackson, a mom of  Skyline Swimmer and Water Polo player Victoria Jackson  and one of the mom's that runs the teams schedule said "Skyline had a great water polo program years ago. There were several students at Skyline that were playing for other schools, and some of them wanted to be able to play for their own school."
A majority of the team is comprised of new players, immersing themselves in the difficult, yet pleasurable game of Water Polo. All new players are welcome and any who are interested are encouraged to join, and will be coached under the direction of Coach Larry, and Coach Peter who both have played Water Polo themselves, and coach Skyline's Swim Team.
They also are coached by Coach Ryan, another Coach with experience in Water Polo. The coaches are enthusiastic, and are very flexible with your busy schedule. They are understanding, and will help new athletes adapt to Water Polo. Athletes are encouraged to bring a swimsuit, and be prepared for a full body workout.
Practices are at Skyline, Monday through Friday at the Skyline Pool. A Days are girls practice, and B Days are boys practice from 6:45-7:30. Monday and Wednesday evenings are at the U of U from 7:00-8:15 and Tuesday and Thursday Practice for Juniors (14 and Under.) For those without the class, you can come for a few minutes, and get in some practice. If you have more questions you may the water polo email: [email protected] or the polo Instagram: @skylinehighpolo
Water Polo gives students a chance to try another water sport, without having to necessarily swim for Skyline. Many Skyline players swim and play water polo because they incorporate each other, and use the same techniques.
Laney Shon, a sophomore who is currently on the Women's Water Polo team said, "I really enjoy water polo, more than I thought I would." This sport combines multiple sports like soccer, and basketball into its gameplay. A team of six players and a goalie play against another team. They start the game by having both teams on the opposite sides of the pool, and when the whistle is blown you sprint to the middle to get the polo ball.
Then they try to get the polo ball into the opposite teams net. The difference with this sport, is that the players are treading water for the entire game. Another Women's Water Polo athlete Abi Gregory said, "I really enjoy water polo. The workout is incredible and the sport is just so unique."
Water Polo is just growing, and the team is always looking for new players. Brandon Bills, a captain for the upcoming swim year, stated, "Water Polo is one of the hardest sports I've ever played, but it's also the most fun I've ever had." Water Polo is making its debut this year, and hopefully will be continued in the future.