Emily Harrington Becomes the First Woman to Free-Climb the Golden Gate Route of El-Capitan in One Day
December 9, 2020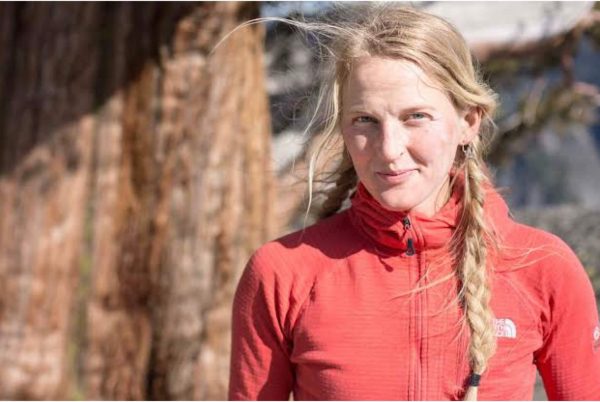 Professional climber Emily Harrington, age 34, became the fourth woman to ever free-climb Yosemite's El Capitan in a day, and the first woman to do so using the "Golden Gate" route on November 4, 2020. According to NPR, the climb took her 21 hours and 13 minutes to summit.
The morning after completing her free-climb, Harrington posted a photo on Instagram with a caption describing the endeavor. "I never believed I could actually free climb El Cap in a day when I first set the goal for myself. […] I didn't have the skills, fitness, or risk profile to move so quickly over such a large piece of stone. But I chose it exactly for that reason. Impossible dreams challenge us to rise above who we are now to see if we can become better versions of ourselves."
In her post, she narrates the difficulties that she encountered en-route. "A nasty slip on the 13a Golden Desert pitch almost took my resolve – a deep gash on my forehead left me bloody and defeated."
Harrington completed the climb with Alex Honnold: the American climber who, in 2017, became the first person to ever free-solo El-Capitan: an athletic feat that had seemed impossible. Honnold astoundingly summited El-Capitan in less than four hours. An oscar-winning film titled "Free Solo" was subsequently released, documenting the ambitious climb. Since then, only a few athletes have successfully completed the route without ropes or safety gear. 
AP News, BBC, CNN, and Sports Illustrated all misreported Emily Harrington's 2020 climb. They mistook Harrington for being the first woman to ever free-climb El-Capitan in a day. Outside Magazine correctly reported that Harrington is the fourth woman to have free-climbed El-Capitan in a single day. Three other women have completed this task; however, Harrington is the first woman to do so using the Golden Gate route. Only three other rock-climbers, all of whom were men, have free-climbed Golden Gate in one day. 
El-Capitan is a 3,000 foot, vertical rock formation in Yosemite National Park. It encompasses a multitude of rock climbing routes, many which are considered brutal and challenging. According to Climbing.com, the "Golden Gate" route is classified by climbers as a grade VI 5.13 route. 
The North Face's website features a page describing Emily Harrington. She grew up climbing in Boulder, Colorado. Her climbing accomplishments include "completing numerous first female ascents of 5.14 sport routes—she was the second American female to climb 5.14b. Harrington has summited Everest, speed climbed Cho Oyu (and skied down) and climbed other high-altitude peaks in Nepal, China, Myanmar, Crimea and Morocco." She has been sponsored by The North Face, Petzl, Smith Optics, and La Sportiva. 
Emily Harrington's website mentions that she "continues to push beyond her comfort zone, putting as much weight on her failures as her successes."