Skyline's Sterling Scholars Soar in 2022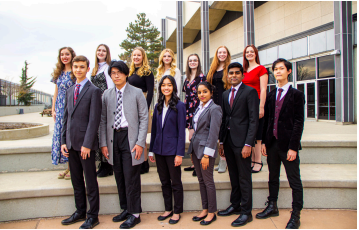 The Sterling Scholars are some of Skyline High School's most talented students, with overarching achievement across multiple categories, as well as their specialized and valuable knowledge in one of the fourteen possible areas of excellence. All of these resilient seniors have been working, consciously or not, towards this prestigious opportunity since their early high school years, and becoming Sterling Scholar nominees is a chance for them to be rewarded for their toil and represent Skyline in the continuing competition.
Camille Shreeve, this year's Dance Sterling Scholar, has been dancing since she was three years old, and has been involved in the Dance Company since her freshman year. She said she was inspired that year by the other senior dancers who were applying, and started thinking about all the opportunities it could give her. "Everyone on Dance Company runs for it if you're a senior. I think it's really good for college [applications] and it's a good opportunity to get together a portfolio and talk with people at the school." She mentioned that during her interview, she had the chance to show off her one minute self-choreographed dance routine, and talked about her leadership experience as the Community of Caring Road Home Director. She had previously received awards and recognition for her skills in dance, including first overall scores in solo and group pieces, and lettering in Dance twice, but she didn't think she would receive a Sterling Scholar nomination. "There's so many qualified people on Dance Company, so it was like a pleasant surprise." Camille was also nominated as a semi-finalist in the regional competition. 
Alexandre Andtbacka, the World Languages Sterling Scholar nominee, was quite confident in his abilities. Being a speaker of four languages — he is fluent in French and Swedish, understands Spanish and is currently learning Japanese — it makes sense that he would "capitalize" all of his effort into one category. In his interviews, Alexandre spoke about how he was going to apply his language skills in the future. "I want to travel abroad to Japan to actually teach English in Japan to students that are learning English. I'm learning Japanese right now so I can converse with them." He also spoke about an app called Tandem, which he is using to expand his knowledge. "I [am] conversing and teaching other people English as well, on that app, and they [are] teaching me Spanish, French, and Japanese, but Japanese mostly." He also mentioned that he is the president and founder of the French Club at Skyline, and received words of advice from his French teacher. "Just being there, being present, and being interested in what you are saying really helps. […] You have everything on your resume, they can read your resume, but they really want to know who you are as a person, so you can show that by how you present yourself." Alexandre was also nominated as a semi-finalist in the regional competition.
Visual Arts Sterling Scholar Sarah Adler also spoke about what being a nominee means to her. "I want this to be my future, I'm intending on working in the fine studio arts and commercial design for the rest of my life, so this is the plan I have laid out, this is my life plan. […] Art school was kind of the goal." She said that she has always been interested in anything to do with the arts, including art history, and has been filling any free time she has with art classes since she was in preschool. She also has been getting her art published in the Skyline literary magazine, the Satorian, for her entire high school career. Unlike most of the other category nominees, Sarah mentioned that she had to take the lead during her interview, explaining the pieces in the portfolio that she submitted. The portfolio was the same one she is submitting to art school, and she explained that the theme is feminist art, which she wants to study more in her career.
Audrey Hall, English Sterling Scholar, has also always said that language arts is her passion. Since she was in fifth grade, she has been writing fiction, beginning with Young Adult writing and then drifting into horror, and she has since been published in the Salt Lake Teens Write Anthology Forms in Blue. She is also Editor-in-Chief of the Skyline Horizon. Although she didn't make up her mind to apply until the day of the Sterling Scholar meeting, and her application and preparation process was very stressful, Audrey was happy to talk about the questions she was asked when she was called in for interviews. "One of the most interesting questions, actually, was what book I was most influenced by. I think the book I'm most influenced by is William Golding's Lord Of The Flies. It's so terrifying, because it's so true to human nature, and yet, it's children. As a horror writer, I can appreciate books that have scary elements but aren't actually horror." She also mentioned that this nomination is important to her because what she writes isn't just about her; "I'm not being Sterling Scholar for me […] I use my writing to influence others and make diversity commonplace." Audrey was also nominated as a semi-finalist and a finalist in the regional competition.
Tuyetanh Le is this year's Science nominee, and she spoke about how science has tied into multiple areas of her studies. Although she has experience with Social Sciences as well as Business and Marketing, she said that "My true passion does lie in science, and my performance at Skyline reflects that," and most of her current opportunities outside of school also tie in with that. "Millcreek Underground is a mental health initiative. We work to get teens out of drug and alcohol use in the community. I'm also quite proud of my work as a pharmacy technician, being able to work in the real world has been very enlightening." She also spoke about her interesting interview process, which might have consisted of all of the Science teachers of the school interviewing her, if the ramp on I-15 hadn't been closed that morning. She explained that although the questions seemed pretty standard, she was periodically distracted by teachers walking into the room in the middle of her interview. Tuyetanh also mentioned that she felt especially proud of her nomination because she had lots of male competitors, and there were times she felt like she was representing future young women in the STEM field: "Winning science means a lot to me because a lot of my competitors were men and it feels great to be able to represent women in STEM." Tuyetanh was also nominated as a semi-finalist and a finalist in the regional competition.
This year's Skilled and Technical Sciences Education nominee Whitney Dahle also spoke about working in a male-dominated field. This category includes classes from auto collision repair, woodworking, cabinet making, millwork, Autocad, C&C, filmmaking, photography, cosmetics, and graphics, but she specializes in mostly woodworking and graphics. "For a long time, I was the only girl in all of my woods classes, so sometimes I had to earn some respect from my classmates." She worked hard to hone her skills, however, and she has gotten an honorable mention at the state showcase for woodworking twice, and won 3rd place at the district competition last year. In her interview, Whitney also talked about the service project she is currently working on, which is a custom table for the students of Hartvigsen Elementary school, the school for the severely disabled kids of Granite School District. "They currently don't have a table where all of their students can sit together at, because they have so many varied abilities [and] they're all in different wheelchairs or things like that, and those don't fit under the table, so they don't get to sit and socialize together. So we're building them a custom table that will open out to two levels, so that all the kids can sit together." Whitney was also nominated as a semi-finalist and a finalist in the regional competition.
Ashley Peterson, Social Science sterling scholar, also believed that she was uniquely qualified because of her community service experience: she is Skyline's student body president, performs in the school musical Newsies, and participates in lots of clubs at the school. She said, "I try hard to improve the community too, in ways that you can't quantify because I really care about this school, and this community." She also talked about her unique social science experience participating in National History day: "My friend and I are very determined to win nationals, we're very serious about it." Ashley also mentioned that she did not expect to be nominated, especially knowing many of her competitors, who were also SBOs. Her interview process was quite intimidating, with all eleven social studies teachers interviewing her, but she was able to hold her ground and talk about her leadership experience and her research about current political events. Ashley was also nominated as a semi-finalist and a finalist in the regional competition.
Contrastingly, Vivek Anandh's interview for Computer Technology was, in his words, "a pretty calm interview, since I knew all the teachers, and they were all very nice." However, he mentioned that he was nervous about competing against his peers. In his interview, he talked about being a well-rounded student, as well as how he is participating in a lot of the programs offered at Skyline, including Debate, STEM Angels, and MESA. He holds leadership positions in all of these. He explained that Sterling scholar is a good way to represent himself and Skyline, especially because he wants to pursue Computer Technology outside of school as well. Vivek told the story of how he found out he had been nominated: "I was just sitting in Mr. Lott's class, waiting and I went outside to look at the results and I was very excited." Vivek was also nominated as a semi-finalist and a finalist in the regional competition.
Vocal Performance Sterling Scholar Anna Dalley also spoke in her interviews about how she wants to represent Skyline. "I got asked about what I would do if I moved on. What I would perform, what I would say. [Ms. Bunker] was trying to see who would best represent Skyline if they moved on." She has been singing since she was very young, and she has been in Skyline's choir classes for four years. She mentioned that she was inspired to apply in her Junior year, when last year's Sterling Scholars were nominated, and she felt that she was qualified because of her leadership position in the Madrigals. Even so, the competition within Sterling Scholar is always difficult, and the competitors from the other schools are sure to give her a challenge. Anna was also nominated as a semi-finalist in the regional competition.
Clara Buchanan, this year's Instrumental Music Sterling Scholar, was also doubtful that she would be nominated. "There are so many talented people going for it. Any of the other candidates would do an amazing job." At the same time, however, she is extremely grateful for the opportunity to participate, and spoke about how all of her music and leadership experience has helped her grow during her high school career: she has been playing harp since she was four years old and piano since she was five, and has played the flute since the fifth grade. Currently she plays in Skyline's Wind Ensemble and Philharmonic Orchestra, and has won multiple awards at music festivals through the years. Furthermore, she is in choir, and is part of the Hope Squad, Seminary council, and is Skyline's Publicity Manager. Clara was also nominated as a semi-finalist in the regional competition.
Purvi Joshi, the Speech/Theatre Arts/Forensics Sterling Scholar specializes in Debate, which has been a big part of her life throughout high school: she has been on the team since her Sophomore year, is the two time regional champion for Lincoln-Douglas, and has qualified for nationals twice. She was inspired in her Freshman year to become like the other Sterling Scholar nominees, and was also encouraged by her teachers to sign up. "I expected to at least be considered in the top three, since the people who encouraged me were my teachers, who have seen me perform." By the time she actually signed up, she was confident in what she wanted to discuss to answer the questions that she would be asked. She also mentioned that she wasn't always this confident. "I'm able to overcome and use my fears. I've become more confident about who I am and uphold my values and use communication to my advantage." Purvi was also nominated as a semi-finalist in the regional competition.
This year's Mathematics nominee, Ruiyu Zhang, spoke about how Sterling Scholar is a good way to reflect on your accomplishments, and show all the work that you have put into a category. In his interviews, he was asked about his experiences in math, and how they have influenced him. He spoke about his participation in MESA, HOSA, STEM Angels, as well as Chinese Club. He has never been nominated for an award like Sterling Scholar, and he mentioned that he didn't even put in his application until two weeks before they were due. "I'm just chill, I try not to be super serious." Ruiyu also spoke about how he knew that Mathematics was a highly competitive category, and he didn't think he would be nominated, although he was quite confident before his interviews. "If they ask me a certain question I'll just know the answer to it, since this is a subject I care a lot about; if your response is natural it'll be genuine." Ruiyu was also nominated as a semi-finalist in the regional competition.
Paige Haynes is this year's Family and Consumer Sciences nominee, and she spoke about how long she has been taking different courses related to her category since seventh grade. "To date I've taken seven FACS classes at Skyline. A lot of the FACS classes don't all relate to each other: I've taken Foods, Sewing, and Interior Design, none of them mesh together, yet it's something I can say that I specialize in all of these. […] It's something I've loved ever since I was little, so to be able to show that to the world and be like, 'Look, I did something really cool in this category that I love,' is just so inspirational to me." Although she was eager to show off her experience and accomplishments, Paige mentioned that she did not expect to win because she thought that her competition was more qualified than her. She was also asked more in-depth about her participation in FCCLA during the interview, since her position as an officer makes up the majority of her leadership experience during high school. Coincidentally, an FCCLA meeting led to Paige not finding out that she had been nominated until a teacher told her, because she had walked right past the listing in the office on her way to the meeting.
Business and Marketing Sterling Scholar David Sun has a passion for business and has been taking various business classes since Freshman year, and is the president of both DECA and FDLA among other leadership positions. To prepare, he mentioned that he worked on his fluency in what he was going to talk about, and also reflected on his accomplishments of the past several years: "Ultimately, a focus on community is what's most important in any successful organization. Although I didn't have access to many financial resources when I was young, I hope to give kids the opportunity to lead and inspire through School Simplified — the largest student-run education nonprofit in North America. Through DECA and FBLA, I've been able to help kids learn about entrepreneurship and pursue their passions during the last four years. In my opinion, Skyline is the best school, and I hope that I can show the Sterling Scholar selection committee what Skyline is all about!" Sterling Scholar is not just a way to reflect on his accomplishments, however, but a step toward his future goals as well, allowing him to build a good support network among the other nominees: "Everybody is very invested in each other and you have this great support network." David was also nominated as a semi-finalist and a finalist in the regional competition.
Leave a Comment